Team Building Cooking in Tuscany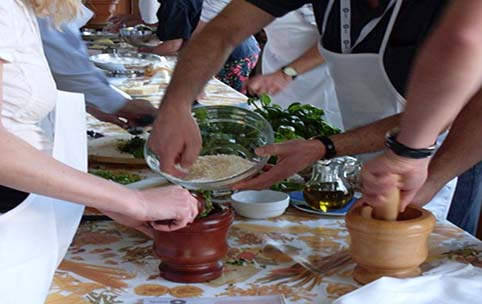 Team Building Cooking in Tuscany/ Cooking Courses in Tuscany/ Cooking Classes in Tuscany and Florence
The excellent Tuscan cuisine is famous all over the world and has always stood for a successful combination of simplicity and sophistication. Tuscany offers the best of fresh ingredients, but also a creative and longstanding kitchen tradition.
Tuscany cooking course for your team/ Cooking Classes in Tuscany and Florence
We offer cooking classes and cooking courses in Tuscany and Florence – also perfect as team strengthening and fun Italian Team building activity. The beautiful and diverse landscape and unique locations of Tuscany provide your team with the necessary distance from the reality of everyday business.  The positive environment strengthens the team spirit for the joint immersion in the secrets of the Tuscan kitchen.
In the central Italian region of Tuscany, we invite your teams to participate in our fun-filled team event. The venues for our cooking events can be historic mansions, wineries, historical city-palaces or in the open air under olive trees, among vineyards or by the sea.
The objectives of the teambuilding cooking in Tuscany:
In addition to learning about Tuscan specialties and the mastery of cooking skills teams will focus on strengthening the team spirit as well as the creation of shared experiences.
Team Building Cooking in Tuscany – Highlights
• Selection of fantastic venues such as wineries, mansions and palaces for your Italian cooking team building event
• Professional Italian chefs cook delicious Tuscan pasta, meat and fish dishes and succulent desserts with their team.
•Team cooking competition with awards given by famous Tuscan Chefs
• Tours to Tuscan wineries and cheese specialists
• During day tours your team learns about local products and manufacturing processes (including tasting)
Number of participants:
4 to 60 people
Period:
Team building cooking events can be carried out all year round in any weather – both outdoors and indoors.