Guided Classic Tour in Milan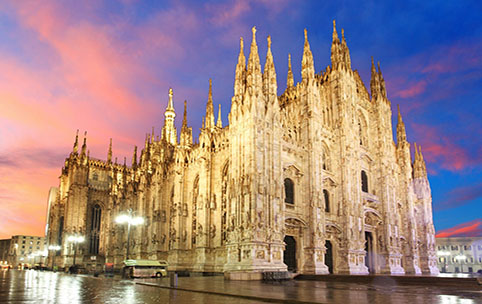 Guided Classic Tour in Milan
Today the city of Milan is a thriving business capital and a cosmopolitan fashion hub. But despite being the most modern of Italian cities, it still retains its glorious past. It has over 2600 years of history and is one of the oldest cities in Europe. It is not surprising then that relics like grand Gothic cathedrals, medieval castles and fine Renaissance and Baroque artwork draw throngs of tourists to Milan every year.
This guided walking tour (conducted in English) offers a glimpse of classical attractions around Milan that can easily be covered on foot over 2 to 3 hours. The tour begins at the Historical City Center from where we will take you to the stunning Dome (Duomo) cathedral. The brick and Candoglia marble Duomo is the fifth largest cathedral in the world and took nearly 600 years to complete. Today it is the seat of the Archbishop of Milan and a spectacular relic of medieval architecture.
From the Duomo, we move to the world famous 18th century opera house La Scala, where great Italian operatic artists have been performing for over 200 years since Antonio Salieri. The next stop is Piazza Mercanti, Milan's main city square in the Middle Ages. It houses several statues, monuments and important Gothic and Baroque buildings that architecture enthusiasts will appreciate.
From the square, we take you to Castello Sforzesco (Sforza Castle) which is a 15th century castle built on 14th century fortifications. The castle houses a number of art and history museums on its sprawling grounds.
Next up on the itinerary are Milan's most fashionable shopping street, Via Montenapoleone and the Galleria Emanuele Vittorio, one of the world's oldest shopping malls completed in 1877. We end the tour at Brera, which is the city's fashionable gallery district and the location of the Brera Art Gallery and the Brera Academy of Fine Arts, a botanical garden and an observatory.
Highlights of the Guided Classic Tour in Milan: 
Duomo
Piazza Mercanti
Castello Sforzesco
Via Montenapoleone
Galleria Emanuele Vittorio
On this walking tour, visitors will get to know the best and most important Milanese sights with the help of a knowledgeable and friendly expert guide. It is a tour not to be missed!