Weintouren in der Toskana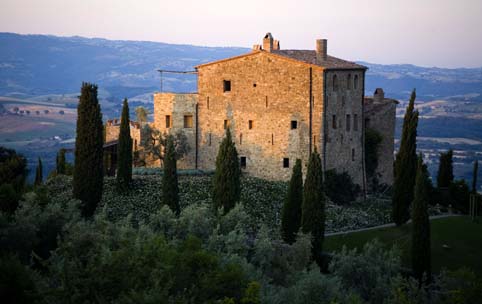 Tuscany is a region of excellence in the field of food and wine. This land produces highly appreciated wines and the Tuscan cuisine distinguishes itself for its tasty dishes made with genuine natural ingredients turning the simplest dishes into true delicacies to savoured and enjoyed.
In Tuscany we offer several fascinating wine tours in visiting some of the most fascinating places, regions and wineries.
Learn about the finest Tuscan wines, while visiting the enchanting Tuscan towns of Bolgheri and Castagneto Carducci with its famous cypress alley. Indulge in exquisite Italian wines while visiting classy "enotecas" (wineries) like the Tenuta dell' Ornellaia in Bolgheri. Get together with outstanding winemakers and learn about the art of wine pressing. Enjoy finest Italian wines like Brunello di Montalcino or Nobile di Montepulciano.
Siena & Montalcino wine tour
Visit of the famous Tuscan town Siena & to visit small wineries that produce the famous Brunello di Montalcino. In the winery you will learn about the wine making process & you will taste the famous red wine Brunello DOCG and Rosso di Montalcino DOC wines.  (on request we will also visit Montalcino town or Sant'Antimo Abbey)
Chianti & San Gimignano wine tour
A full day excursion to the heart of the Chianti Classico area. We will visit the beautiful hills of Chianti area, visit 2 wineries highly rated by influential wine publications. You will taste the wines of the winery which will typically include at least one Chianti Classico, a Riserva and an IGT Super Tuscan. For lovers of white wine, on this tour we will also discover the famous white Vernaccia di San Gimignano.
Montepulciano wine tour
Visit of the beautiful town of Montepulciano & the Montepulciano area, birthplace of the well-known Nobile di Montepulciano an aged red wine of high quality. The tour will take you into two small wineries to learn and see the secret of wine making of this special bland. For lunch we will stop in the near town of Montepulciano where you could taste a typical Tuscan lunch.
Tuscan Castels wine tour
This day you will be driving towards the old Chianti area. This for long time was the border between Florence and Siena, so it is rich of castles and keep. Now they are converted into well kown winery so you can appreciate a fine wine in a splendid medieval setting. (including visits of San Donato and winery Castello della Panereta or Castello di Monsanto or winery fattoria Montecchio or Castello dei Rampolla)
Bolgheri wine tour
Wine tour to Bolgheri – birthplace of famous Sassicaia – in the west of Tuscany. Here you will  taste the famous Tuscan blend of Supertuscan wine. Visiting two wineries & the small towns of Bolgheri and Castagneto Carducci.
Winemakers in the Bolgheri zone specialize in red Tuscany wine created by blending the grapes of Cabernet Franc, Sangiovese, Syrah, Merlot or Cabernet Sauvignon. Several different wines are produced using different combinations of these grapes.